Software engineering
Industrial automation has now become an integral part of every production activity. Successful automation increases productivity, product quality and safety for workers.
Our company is able to propose the optimal automation system for the process involved, defining the hardware equipment (PLC, robot, vision systems) and software (SCADA) that best meet the technical and economic needs, without particular preferences of brand, as long as it is widely used on the market and is quickly available and serviced.
PC development, PLC, SCADA, vision systems and motion control applications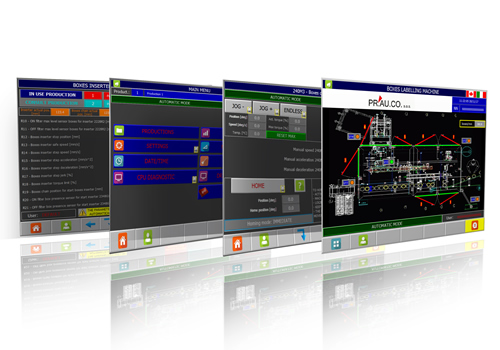 Pr.Au.Co. sas identifies and develops IT solutions with the aim of ensuring performance, innovative and reliable applications; designs, develops, tests and puts software into industrial automation systems, in its various components, such as: PLC, SCADA, Industrial vision systems, Motion Control and Robotics.
We collaborate with the leading exponents in the field of industrial automation such as Siemens, Schneider Electric, Rockwell Automation, Adept, FanucRobotics, Cognex, Autodesk Autocad, SpacAutomazione and many others. Software development for programmable logic controllers (PLC), software development for Supervisory Control and Data Acquisition (SCADA) and in the Motion Control field takes place with the aim of guaranteeing high levels of performance, innovation and reliability in the applications implemented.